Find The Lens Type That Suits Your Style
A Look at Glasses Lenses

When shopping for a new pair of eyeglasses, there are many factors you should consider. Your eyeglass frames should complement your face shape, appearance and personality, while your glasses lenses should fit according to your lifestyle, comfort and vision needs. Your local Pearle Vision eye care team will explain the differences between every specialty eyeglass lens, so you can compare them and find exactly what you need. Before you come in, get an idea about the different types of lenses you may discuss during your visit by reading our quick guide below.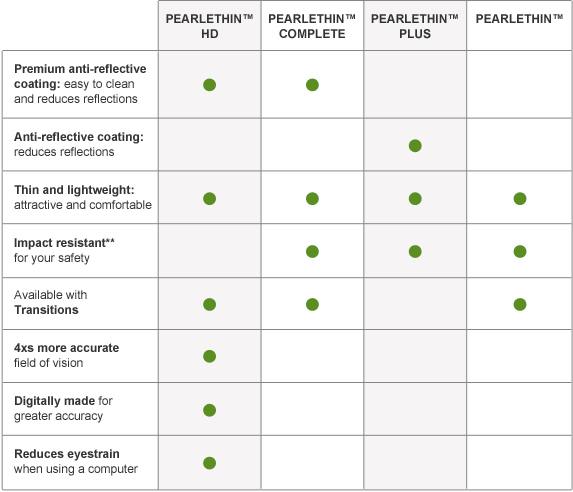 Polycarbonate Lenses

Polycarbonate was created as the demand for lightweight, impact-resistant lenses increased. Both lighter and more impact-resistant than plastic lenses, polycarbonate offers comfort and safety. This material also offers 100% UV protection from sun rays.
Ideal for: Children, outdoor enthusiasts, frequent drivers and people involved in sports or a lot of physical activity.
Hi Index Lenses

Hi index lenses are made of hi index plastic, which allows for a lighter, thinner lens, even for more significant prescriptions.
Ideal for: People with high prescriptions, people who want the lightest and most advanced material available.
Anti-Reflective Lenses

Our anti-reflective prescription lenses reduce surface reflections by 78%. As with all of our lenses, anti-reflective lenses provide scratch resistance and UV protection. These types of lenses can improve your vision and reduce your eye strain. These eyeglass lenses are especially beneficial at night as it optimizes visual acuity by allowing more light to pass through your lenses. Anti-reflective lenses can also eliminate glare from the sun and provide greater comfort for prolonged computer use.
Ideal for: People who work or drive frequently at night, spend a lot of time outdoors, are in front of a camera or spend prolonged amounts of time in front of a computer screen.
Polarized Sun Lenses

Eyeglasses with polarized sun lenses can make all the difference, especially if you spend a lot of time driving. With polarized sun lenses you can clearly see 23 feet farther ahead. If you like spending time in the sun these lenses will reduce glare and eye fatigue from exposure.
Ideal for: Outdoor enthusiasts, people who live in areas that get a lot of sun and those who frequently drive during the day.
Transitions® Lenses

Transitions lenses adapt to changes in sunlight, becoming darker in bright areas and clear indoors or at night. They can help reduce glare, eye fatigue and strain, regardless of day or night. If you spend a lot of time in the sun, you can expect your transitions lenses to block 100% of UV rays.
Ideal for: People who work long hours, those who work both indoors and outdoors, and those who don't want to deal with carrying two pairs of glasses.
Ray-Ban Authentic Lenses

Our Ray-Ban Authentic prescription lenses offer the latest advancements in optical technology and are crafted to fit perfectly with Ray-Ban frames, for an uncompromising mix of style and performance.
Ideal for: Ray-Ban enthusiasts that love the great look and feel of Ray-Ban frames, but want an added Ray-Ban Authentic lenses without losing the authentic Ray-Ban signature.
If you don't have a prescription or need to upgrade a prescription for eyeglasses, Book an appointment today at your neighborhood Pearle Vision. Our eye care experts and opticians can discuss different glasses lens types and answer any questions you may have.