Great Uses For Vision Benefits
Great Uses for Vision Benefits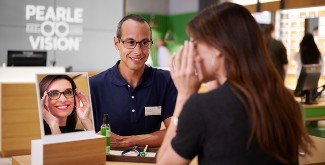 If you participate in vision plans or flexible spending accounts (FSA), it's important to remember that most plans expire at the end of the year. With January 1st just around the corner, it may be time to utilize your plan. Even if you have used your vision plan, you still might have money remaining in your FSA, which can be used to buy additional eyewear and gifts. So if you haven't already, here are four great ways to make use of your vision benefits before time runs out.
1. Schedule your annual eye exam*.
What's more important than your health? If you haven't scheduled your annual eye exam, now is the time. Eye exams are an essential aspect of eye health in addition to overall health, as doctors can detect other diseases in addition to eye-related issues. Most vision plans entitle you to eye exams, testing, and screenings, as well as discounts on updating eyewear prescriptions.
2. Find out if you have FSA dollars remaining.
Even if you have used your vision plan, you still might have money remaining in your FSA. Make sure that you've checked your FSA, because in many cases that remaining money won't roll over into the new year. You might be surprised to find how valuable remaining FSA can be, so you're going to want to take full advantage before it expires.
3. Spend your remaining FSA on eyewear.
With the money left over from your FSA, there are many options for how you can use it. Consider purchasing an extra pair of eyeglasses or Rx sunglasses as a backup. Additionally, you could use this as an opportunity to try contact lenses or colored lenses. BluTech lenses are another great option. BluTech lenses filter out blue light emitted from everyday electronic devices like cell phones, tablets and computers. Increased exposure to blue light can cause a number of harmful side effects such as headaches, blurred vision and even long-term vision loss. If you've ever wanted to try BluTech lenses, this could be the perfect time for you.
4. Holiday gifts.
Your remaining FSA dollars don't necessarily have to be spent on you. As the holiday season approaches, this makes for a great opportunity to knock off some items from your gift list. Rx sunglasses or designer frames make a wonderfully practical and stylish gift for any occasion.
These are just a few helpful ways you can use your vision plan. Just remember, during the busy holiday season, make sure you find the time to maximize your benefits. If you are unsure of your benefits spending or the last date of your eye exam*, visit your local Pearle Vision to learn more or Schedule an eye exam*.
Sources:
1. http://www.allaboutvision.com/vision-insurance/glossary.htm
2. http://www.allaboutvision.com/vision-insurance/how-to-use.htm