How Not To Miss A Moment
Great vision will ensure you see every special moment of family gatherings, special events and your everyday things.
Your eyes are your best ally in appreciating all of life's special moments. Understanding the importance of eye exams, when to see an eye doctor, and how to maintain good eye health can help ensure you savor each of these special moments. Here are some reasons why it's wise to get an annual eye exam.
1. See every moment of your child's life clearly—they deserve it!

You spend countless hours playing, practicing, studying, and rehearsing with your child. But how can you enjoy these moments if you can't see them clearly? If you find yourself taking your glasses on and off to see your child at different distances, it could be time to arrange an eye exam. If you don't understand how to keep your eyes healthy, you might miss important details and not be fully present in what's going on around you.
2. Avoid problems caused by outdated prescriptions

Wearing glasses with an old prescription can cause unnecessary discomfort. You may experience blurry vision, headaches, dizziness, or lack of balance. That can interrupt your ability to be in the moment. Ensure you can see every detail by knowing your vision is where it should be.
3. Make sure you're seeing the world in 20/20

Too often people think their eyesight is fine because they've gotten used to it. But this can be a dangerous assumption. If you're noticing frequent headaches and more sensitivity to light, you could cause harm to yourself and others while doing activities that require a clear focus, like driving. And you might be amazed at what it's like to view life through your correct prescription, with everything suddenly coming into clear view. It can change your life.
4. Uncover serious health issues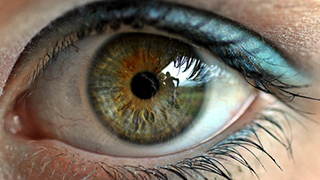 The flu isn't the only illness you'll want to stave off this time of year. An eye exam can sometimes detect signs of more serious health problems early and even save your life. The eyes provide a clear view of your blood vessels, arteries, and cranial nerve, which can sometimes show signs of many health-related issues like high blood pressure, diabetes, hypertension, heart disease, gallstones, cancer, risk of stroke, and brain tumors, glaucoma, and macular degeneration.
5. Make the most of your benefits before they expire!

A yearly eye exam is covered by most vision insurance plans*. So be sure to take advantage of all your health benefits. After all, you're already paying for them! Lots of fun is right around the corner. Don't you want to be able to see everything clearly?
A quick visit to the eye doctor can not only save you time and money, but it also helps you keep up with your eye health. Stay on top of your vision care by arranging your comprehensive eye exam today.
*Insurance plans may vary. Consult your benefits for details.
DISCLAIMER: THIS WEBSITE DOES NOT PROVIDE MEDICAL ADVICE. The information, including but not limited to, text, graphics, images and other material contained on this website are for informational purposes only. The purpose of this website is to promote broad consumer understanding and knowledge of various health topics. It is not intended to be a substitute for professional medical advice, diagnosis or treatment. Always seek the advice of your physician or other qualified health care provider with any questions you may have regarding a medical condition or treatment and before undertaking a new health care regimen, and never disregard professional medical advice or delay in seeking it because of something you have read on this website. Pearle Vision does not recommend or endorse any specific tests, physicians, products, procedures, opinions or other information that may be mentioned on this website. Reliance on any information appearing on this website is solely at your own risk.