Vision Insurance Information for
Prescription Glasses and Eye Exams
Clear answers about insurance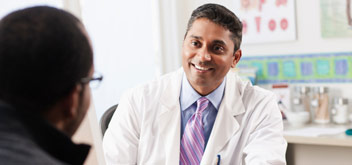 Sorting out eye exam costs and the price of prescription glasses can be an overwhelming process. At Pearle Vision, we want you to use the benefits your vision insurance offers without the stress. That's why we take care of the paperwork for you with direct billing, so you don't have to worry about inconvenient forms, claims or bills. Whether you need a new pair of eyeglasses, contact lenses or are due for your annual exam, we want to make it easy for you to get the care you need. The health of your eyes is our first priority, and direct billing is another way we can help get you the best care possible.
Pearle Vision direct bills for most vision insurance plans available in Canada, including Canada Life (formerly Great West Life), Sun Life Financial, Blue Cross, and Green Shield. No matter what you're looking for, ask our associates how we can reduce your out-of-pocket payment through direct billing. As a participant, you can use your vision insurance or discounts at Pearle Vision locations nationwide.**
Pearle Vision direct bills many vision insurance plans. To see if we direct bill your vision benefits, just call your nearest Pearle Vision location and ask. Then, stop by your nearest location and see how we can work with vision insurance companies to help reduce eye check-up costs or the price of your new prescription glasses.
Many Pearle Vision EyeCare Centres are locally owned by area eye care professionals*, so direct billing vision insurance companies can vary between EyeCare Centres. Our advice: For quick answers, contact a Pearle Vision EyeCare Centre. location near you and to consult with our eye care experts. Feel free to also reach out to your vision plan's customer service department or HR representative to find out if Pearle Vision direct bills your vision insurance.