Everyday Eye Care Tips
Easy tricks and tips for your vision
Caring for your eyes is a year-round job. A little smart prevention and TLC can go a long way between your annual exams. Here are just a few daily tips to help you protect your eyes for years to come:
Wear Sunglasses: not just for looking cool. Sun damage is serious business for your eyes. For all of your outdoor activities, you need year-round UV protection for your eyes. Always wear eyeglasses and sunglasses with 100% UV protection. You can't rely on sunscreen alone for protection from UV rays. Even though 75 percent of Americans report having concerns about UV eye exposure, less than one-third (31 percent) wear sunglasses every time they go outside, according to the 2016 Vision Watch survey of more than 10,000 adults 18 and older. Pearle Vision makes it easy for you to get Rx sunglasses. Click here to find a Pearle Vision Eyecare center in your neighborhood.
Don't ignore headaches. Reaching for another aspirin? Frequent headaches can be a sign of an eye health issue. Check with your eye doctor or read more about common eye health issues.
Tears can be a good thing. Beware of dry, itchy eyes caused by environmental factors, certain medications or just aging tear ducts. Artificial tears work wonders for thirsty, irritated eyes. Visit your nearest eyecare center.
Don't be afraid to blink. Healthy eyes need breaks. Frequent blinking prevents fatigue.
Safety first. If you think you should be wearing safety glasses, put them on.
Supercharge your eyes.Diets rich in Vitamin A keep eyes healthy and sparkling. So eat lots of carrots, dark leafy greens or sweet potatoes. Read a full list of eye-healthy foods here.
Give 'em a rest. Reduce computer-related eyestrain with the 20-20-20 rule: Every 20 minutes, look about 20 feet away for 20 seconds.
Sleep on it! Sleep is the most natural form of eye care. Lack of sleep can lead to increased strain and make your eyes look unhealthy (dark circles or bags).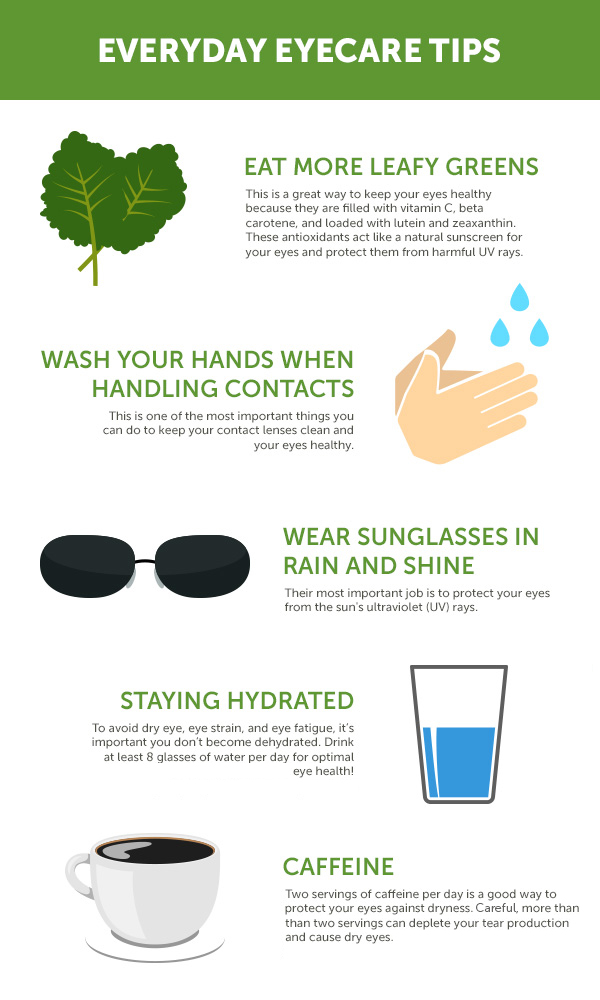 **Eye exams available by Independent Doctors of Optometry at or next to Pearle Vision in most states. Doctors in some states are employed by Pearle Vision.