Importance Of Eye Exams For Kids
The back-to-school item we forget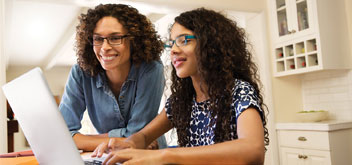 Back-to-school means one thing:
It's time to get cracking on that back-to-school shopping. Everyone seems to remember pencils, backpacks, notebooks, sneakers, sweaters, and lunchboxes, but there's one essential item that often doesn't make the checklist: A comprehensive eye exam. "A thorough vision exam is critical to every child's success in school," says Dr. Sarah Krietlow, an Independent Doctor of Optometry at Pearle Vision in Chaska, MN. "You would never send your kid to school without the tools they need to thrive – and the ability to see the board clearly is one of the most important tools your child will ever need."
Sitting in school for several hours a day, looking from the chalkboard to the computer screens and back to a notebook can be a strain on young eyes. And, vision issues are not just for the middle-aged – 1 in every 4 kids has an undiagnosed vision problem, which can make thriving in a school environment difficult. It can also cause issues for your child socially, in after-school activities, and out on the playground. Finding out whether your child needs school glasses is essential to their learning and education. Make an appointment at your neighbourhood Pearle Vision EyeCare Centre today to ensure your child is ready to start the school year with clear vision and back-to-school eyeglasses or contacts if needed.
Early detection is critical
According to the American Optometric Association, vision problems can compound the longer they go untreated. They recommend an eye exam for early detection and treatment as the most effective way to help your child see clearly with school glasses and help them avoid the issues that come with eye problems.
If your child is consistently sitting too close to the TV, rubbing their eyes, squinting to see things, tearing up, or showing sensitivity to light, these all can be signs something is going on with their vision, says Dr. Krietlow.
Back to school is the perfect time to take them in for a thorough eye exam from a doctor you trust and is vital to setting your child up for the school year they deserve. You should find a doctor your child is comfortable with, recommends Dr. Krietlow, and make sure that if your child does need to wear vision correction, they get school glasses or contacts they feel comfortable in.
Choosing the Back-to-School Eyeglasses
Getting glasses for kids doesn't have to be challenging. With so many types of frames to choose from, you can easily find a pair of back-to-school eyeglasses that will match your kid's sense of style and personality. Here are a few factors you'll want to consider when deciding on a pair of glasses for kids:
Types of Frames: There are several types of frames to choose from, including plastic, metal and rimless frames. When deciding on which material will be the best option, you'll want to consider cost, allergies, and if your child will be wearing their glasses to play sports
Your Kid's Face Shape: You'll want to choose school glasses that complement your kid's face shape. Review our face shape chart to see which styles will look best on your child.
Designer Brands: From Ray-Ban, Oakley, Coach, Vogue, and more, there are plenty of designer brands to choose from to match your kid's personal sense of style.
Added Enhancements: There are many enhancements you can add to school glasses for added vision support, such as antireflective coating to eliminate glare or photochromic lenses that automatically darken when exposed to sunlight.
Depending on your child's vision, you may also want to consider getting them prescription computer glasses. Computer glasses are made specifically for computer use and reduce symptoms of computer vision syndrome, such as fatigue.
If your child feels strongly against wearing school glasses, they can still get the vision support they need by wearing contacts. So, when it's time to get the kids equipped for the school year, don't forgot to include an eye exam at your neighbourhood Pearle Vision EyeCare Centre.